What Is the Tri-Color Bully?
A Tri-Colored Bully is a type of dog that crosses the American Bully and another breed of dog. The term "tri-colored" refers to the dog's coat color, typically a combination of three colors: black, white, and brown or red, however, to create Tri Color Bullies, the recessive Tan Point gene must be present in both parents.
The Allure of the Tri-Color Pattern
While many breeds can boast of unique coat patterns, the Tri-Color bully stands out, not just for its appearance but for the rich history and genetics that birthed this distinct look. Originating from the American Bully, a breed celebrated for its loyalty and affectionate nature, the Tri-Color variant adds a layer of rarity to an already esteemed lineage. This isn't just a dog; it's a statement, a blend of nature's artistry and genetic precision.
Decoding the Genetics: Beyond the Surface
To truly appreciate the Tri-Color bully, one must embark on a journey into the realm of canine genetics:
Base Color Dynamics:

Delve into the primary shades, from the deep blacks and blues to the more rare chocolates and lilacs. A study published in the

Journal of Canine Genetics and Epidemiology

highlights the intricate interplay of genes that determine these base colors, setting the stage for the Tri-Color pattern.

The Role of Tan Points:

These aren't mere accents. Research from the

Canine Genetic Research Foundation

reveals how specific genes, particularly the

Agouti gene

, dictate the placement of these lighter patches, adding depth and contrast to the bully's coat.

White Markings – Nature's Final Touch:

Explore how these markings, often gracing the face, chest, and paws, complete the Tri-Color ensemble. According to a study in the

International Journal of Canine Science

, these markings result from a combination of genetics and, occasionally, environmental factors during embryonic development.
How Big are Tri-Color Bullies?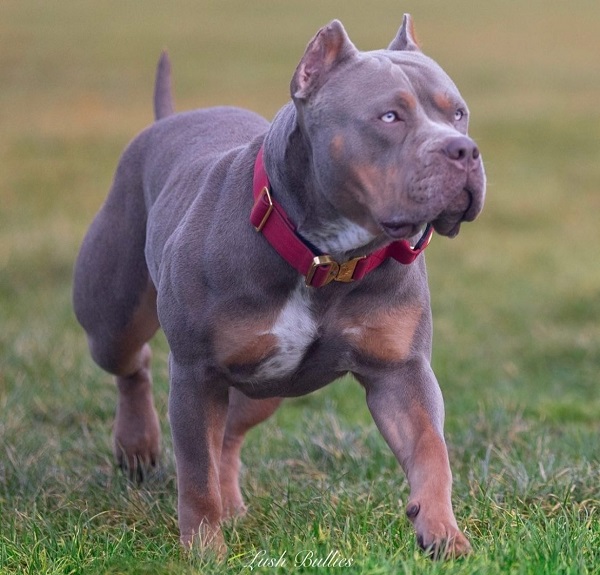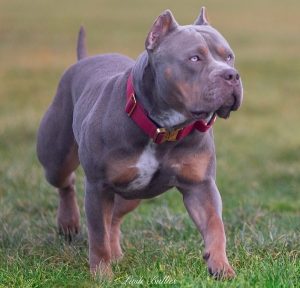 The size and weight of a Tri-Color American Bully can vary significantly depending on several factors, including genetics, diet, and exercise. American Bullies are generally a medium to large breed, with males typically weighing between 70 and 120 lbs and females weighing between 50 and 90 lbs. However, it is essential to note that these are just general guidelines, and the size of an individual American Bully can vary significantly.
The different types of American Bullies, such as XL bully, standard Bully, classic Bully, and pocket bully, refer to variations in size and conformation within the breed. XL bullies are typically larger than standard bullies, while pocket bullies are more minor. Classic bullies are generally intermediate in size and conform more closely to the breed standard. The specific size and weight range for each of these variations can vary, and it is essential to refer to the breed standard or consult a reputable breeder for more information. 
If you are considering getting a Tri-Colored American Bully, it is essential to research and ensure you are prepared to care for a dog of this size. This includes providing a nutritious diet, adequate space for the dog to move, play, sleep, and necessary medical care. It is also important to be aware of local laws and regulations regarding dog ownership, as some areas restrict the size of dogs that are allowed.
The Tri-Color Bully's Temperament and Behavior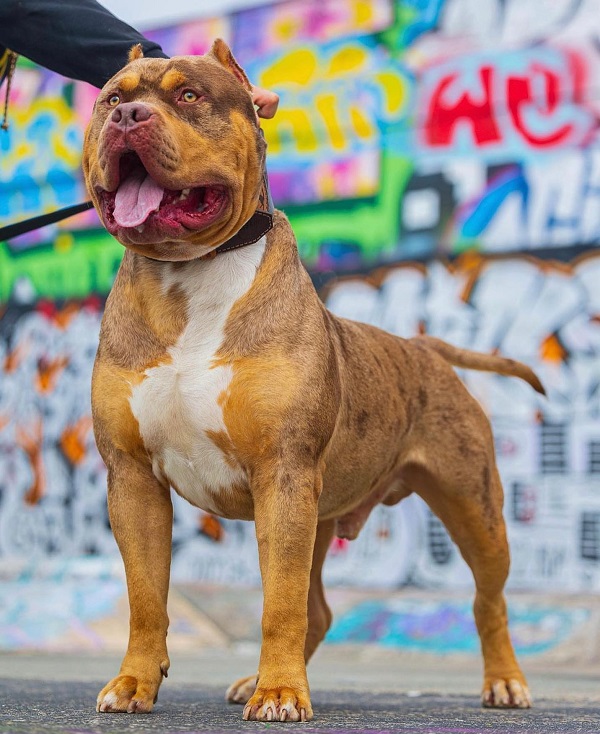 The Tri-Color American Bully, like its counterparts in other shades, is renowned for its affectionate nature and loyalty. Contrary to some misconceptions, this breed is not inherently aggressive. In fact, with proper training and socialization, they make excellent family pets. 
Here are some key behavioral traits:
Loyal and Protective

: They form strong bonds with their families and can be protective, making them excellent watchdogs.

Friendly and Affectionate

: Despite their robust appearance, they are known to be gentle, especially with children.

Intelligent and Trainable

: With consistent training, they can pick up commands quickly and can be very obedient.

Social

: They thrive in environments where they can interact, play, and be active. Regular playdates with other dogs can be beneficial.

Energetic

: Regular exercise is crucial to keep them physically and mentally stimulated.
Tri-Colored Bullies vs. Other Breeds
When compared to other bully breeds and pit bulls, Tri-Colored Bullies stand out in several ways:
Appearance:

Their unique color combinations make them instantly recognizable.

Temperament

: While each dog is an individual, Tri-Colored Bullies are often praised for their loyal and friendly nature.

Size and Build

: They share the robust and muscular build common to bullies but can vary in size based on their specific lineage.
Is a Tri-Color Bully a Pitbull?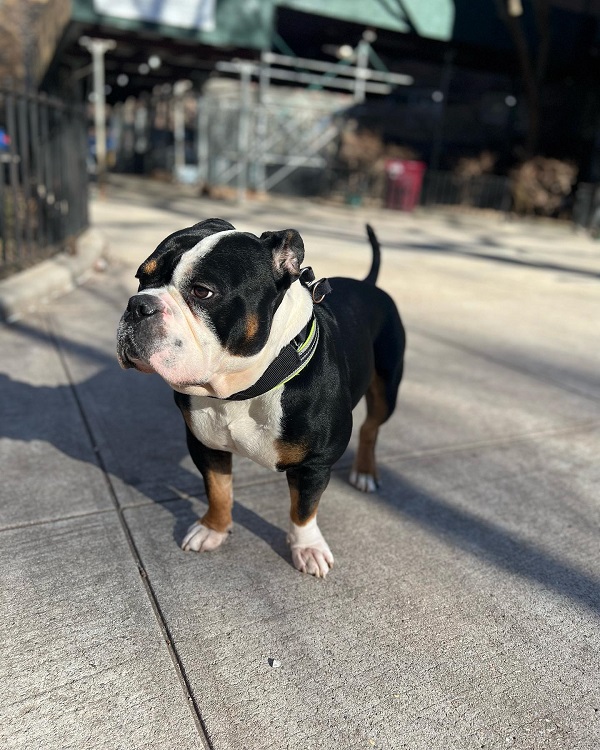 According to the AKC (American Kennel Club), four breeds are officially classified as Pitbulls.
The American Bully

Staffordshire Bull Terrier

American Staffordshire Terrier

American Pit Bull Terrier
While they have similar beginnings, there are variances between all breeds listed above, and referring to them as Pitbull will not provide a clear image. American Pit Bull Terriers are most generally referred to as a pitbulls. Meanwhile, each of the other three breeds has its references. Amstaff stands for American Staffordshire Terrier, Staffy stands for Staffordshire Bull Terrier, and Bully stands for American Bully.
According to the definition above, a Bully is a Pitbull, yet referring to one as such will create an inaccurate image in most people's minds.
The American Bully is a mix of the American Pit Bull Terrier and the American Staffordshire Terrier. There are, nevertheless, components of different Bulldogs and Mastiff blood mingled in.
Tri-Color Bullies: Debunking the Crossbreed Myth
One of the most persistent myths surrounding the Tri-Color bully is its alleged status as a crossbreed. This misconception has roots in the breed's unique coloration, leading many to mistakenly believe it's a result of crossbreeding with other dog breeds. However, Tri-Color bullies are purebred American Bullies, and their distinct coat pattern is a testament to the wonders of genetics, not crossbreeding.
Are Tri-Color Bullies Rare?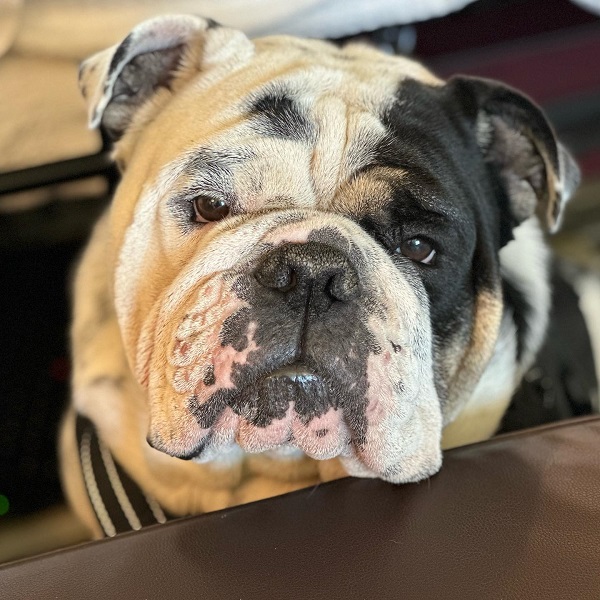 Without a deliberate breeding effort, there would be almost no Tri Color Bullies due to the requirement to mix two recessive genes. Fortunately, some breeders expressly breed for these characteristics; however, they are still scarce and command a premium price.
There are combinations within Tri-Color that are more uncommon than others. Since the primary color is produced by the typical shades accessible to a bully, colors such as Blue and champagne (Lilac) are rarer than the more typical colorings such as Black or Fawn.
Tri-Color is a relatively recent fad, as there were previously questions about whether they were crossbreeds.
As a result, they became less desired, resulting in less focused breeding. However, this perception has shifted in recent years, and several increasing breeding programs are committed to producing more Tri-Color Bullies.
The Ethical Breeding of Tri-Color Bullies
With the rising popularity of Tri-Color bullies, ethical breeding practices have never been more crucial. While the allure of rare colors and patterns can be tempting, breeders must prioritize the health and well-being of the dogs. This means avoiding inbreeding, ensuring genetic diversity, and focusing on the overall health and temperament of the breed, rather than just its appearance. By adhering to these principles, breeders can ensure the longevity and prosperity of the Tri-Color bully, preserving its legacy for generations to come.
The Importance of Avoiding Backyard Breeders
The beauty of the Tri-Color Bully's coat has led to a surge in its demand. However, it's crucial to source these dogs from ethical breeders who prioritize the health and well-being of the dogs over profits.
Understanding Ethical Breeding

: Ethical breeders conduct health tests, avoid
inbreeding, and ensure that the dogs are raised in a nurturing environment.
The Perils of Backyard Breeding

: Backyard breeders often prioritize coat color over health, leading to dogs with numerous health issues.

Choosing the Right Breeder

: Always research and visit the breeder. Ask for health clearances and meet the puppy's parents if possible
Factors Influencing the Price of Tri-Colored Bullies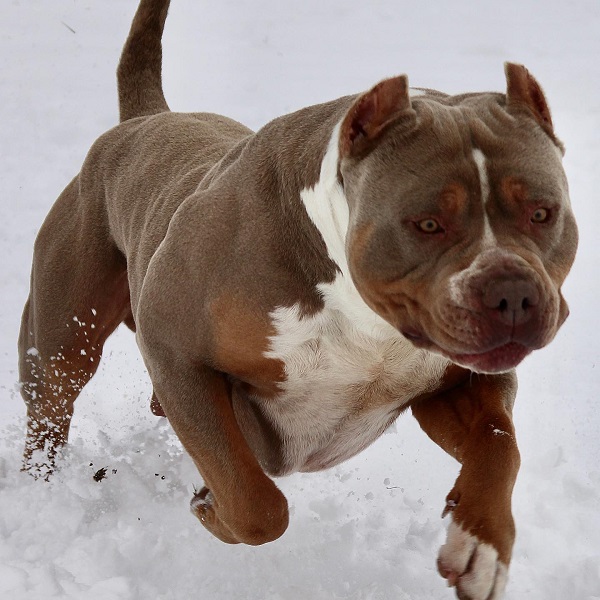 The price of a Tri-Colored bully can vary significantly based on several factors:
Breed Authenticity:

Genuine Tri-Colored bullies, backed by authentic breeding practices, often fetch a higher price.

Rarity of the Color Pattern:

Some color patterns, like the Chocolate Tri Merle, are rarer and can command a higher price.

Breeder Reputation:

Established breeders with a track record of producing healthy and well-tempered dogs often charge more.

Demand and Popularity:

As with any market, the demand for a specific color pattern can influence its price.
Market Trends: Over the past few years, the demand for Tri-Colored Bullies has surged, especially for unique color combinations. This trend is reflected in the increasing prices, especially for rare variants.
Price Ranges 
While prices can vary based on the factors mentioned above, here's a general range for Tri-Colored bullies:
Common Color Variations (e.g., Black Tri Bully):

$2,000 – $5,000

Rarer Color Variations (e.g., Chocolate Tri Merle Bully):

$5,000 – $10,000

Ultra-Rare Variations (e.g., Merle Tri Bully):

Up to $15,000 or more
Why Some Variants Are More Expensive Than Others 
The price of a Tri-Colored bully isn't just determined by its appearance. Several factors come into play:
Genetic Rarity:

Some colors, like the Lilac Tri or Chocolate Tri Merle, are genetically rarer. This rarity often translates to a higher price tag.

Health and Breeding Practices:

Ethical breeding practices that prioritize the health and well-being of the dogs can increase costs. Dogs that are bred with care, undergo health screenings, and come with health guarantees often fetch higher prices.

Show-Quality Vs. Pet-Quality:

Tri-colored bullies that meet specific breed standards and are deemed "show-quality" can be more expensive than those considered "pet-quality."

Breeder Reputation:

A breeder's reputation, built on years of ethical practices, quality litters, and positive reviews, can influence the price of their puppies.
Breeders' Insights 
To gain a deeper understanding of the pricing dynamics, it's beneficial to cite insights from reputable breeders and market trends. Many breeders invest heavily in ensuring the health and temperament of their litter, which can influence the price. Additionally, as the popularity of specific color variations rises, so can the demand and price.
Tri-Color Bully Puppies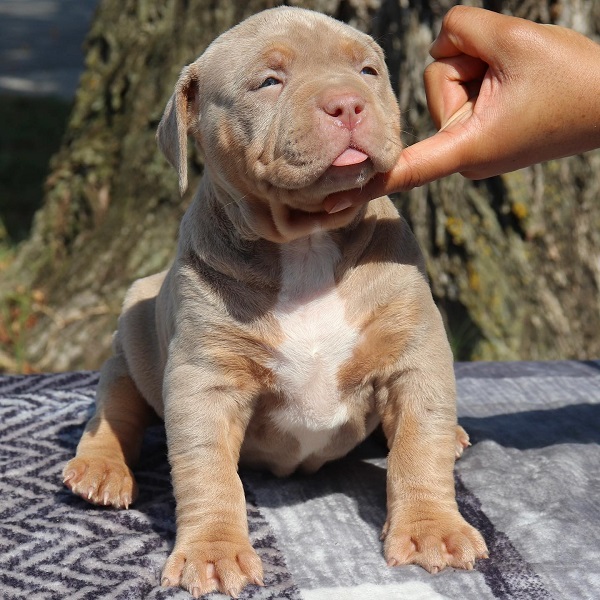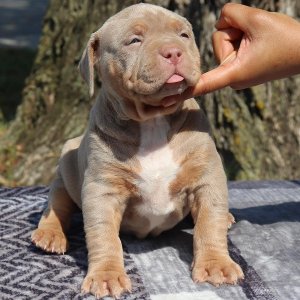 Tri-Colored Bully puppies are a type of American Bully puppy that has a coat that is a combination of black, white, and brown or red. Like all puppies, Tri-Colored bully puppies require a lot of care and attention to ensure they grow up to be happy and healthy adult dogs.
If you are considering getting a Tri-Colored bully puppy, it is essential to do your research and ensure you are prepared to meet the needs of this breed. This includes learning about its temperament, health concerns, and exercise and grooming requirements. It is also crucial to seek a reputable breeder who can provide you with more information about the breed and help you find a healthy, well-adjusted puppy.
Some things to consider when caring for a Tri-Colored bully puppy include:
Providing a nutritious diet

: Tri-colored bully puppies have high energy needs and require a

diet rich in protein

and other essential nutrients to support their growth and development. It is vital to choose high-quality puppy food and to feed your puppy according to the recommended guidelines on the package.

Ensuring regular exercise

: Tri-colored bully puppies are active and energetic and require regular exercise to stay healthy and happy. This can include walks,

playtime

, and other activities that help to stimulate their

minds

and bodies.

Providing necessary medical care

: Tri-colored bully puppies must be updated.
Caring for a Tri-Color Bully: Tips and Recommendations
Owning a Tri-Color Bully, or any dog for that matter, comes with responsibilities. Here are some care tips tailored for them:
Diet

: Ensure they receive a balanced diet. Given their muscular build, they may require a diet rich in protein. Always consult with a vet for dietary recommendations.

Exercise

: Regular walks and play sessions are crucial. This not only keeps them fit but also helps in curbing any aggressive tendencies.

Grooming

: Their short coat is relatively easy to maintain. Regular brushing and occasional baths will keep them looking their best.

Health Check-ups

: Regular vet visits are essential. Be on the lookout for any skin issues, which can sometimes be more prevalent in Tri-Colored coats.

Training

: Start early and be consistent. Positive reinforcement techniques work best.
What Colors Can a Tri-Color Bully Have? 
Tri-Color American Bullies showcase a fascinating array of coat colors, a testament to the breed's rich genetic makeup. While many admire these colors for their aesthetic appeal, understanding the genetics and history behind each variation can deepen one's appreciation for the breed.
It's important to note which colors are recognized by major kennel clubs for enthusiasts interested in show-quality dogs.
Here are some distinct Tri Color combinations, which we shall go through in detail below.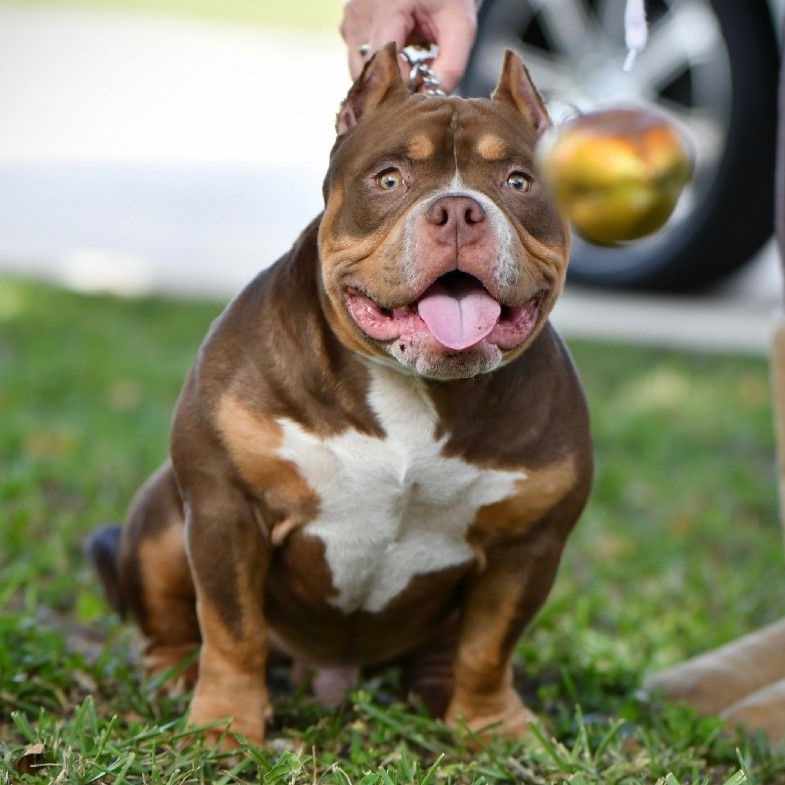 Chocolate Tri Bully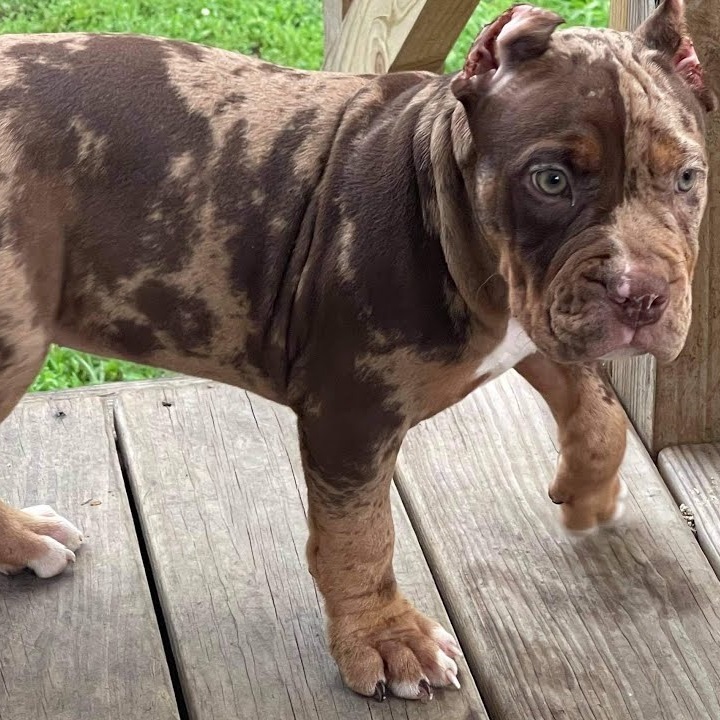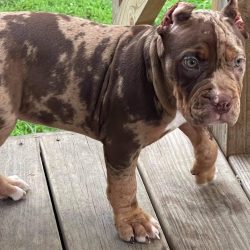 Chocolate Tri Merle Bully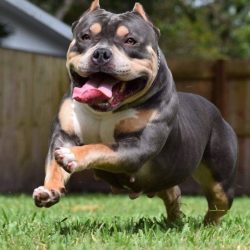 Black Tri Bully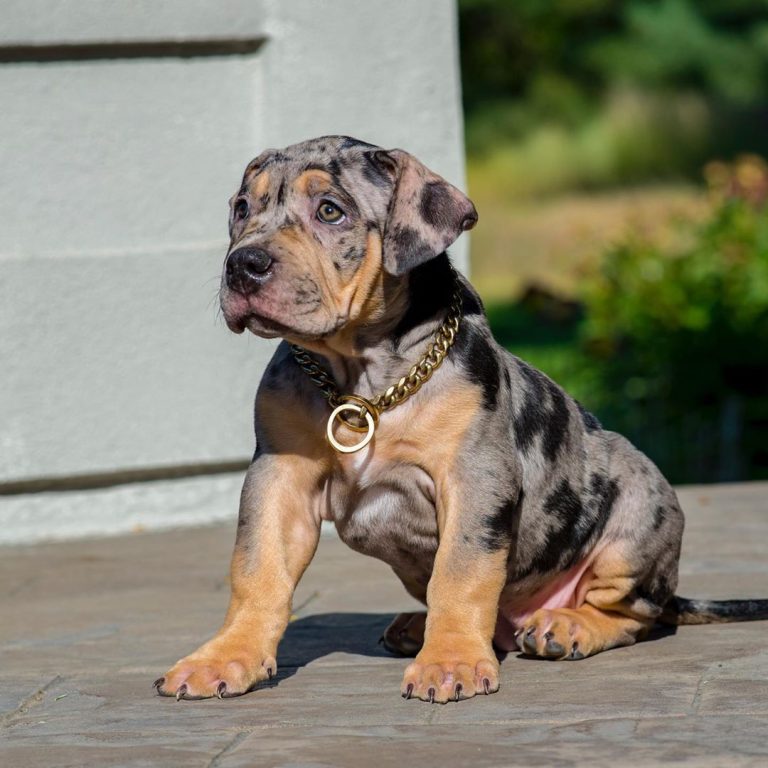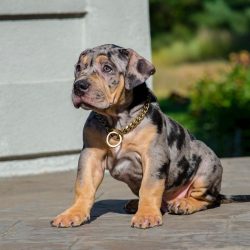 Black Tri Merle Bully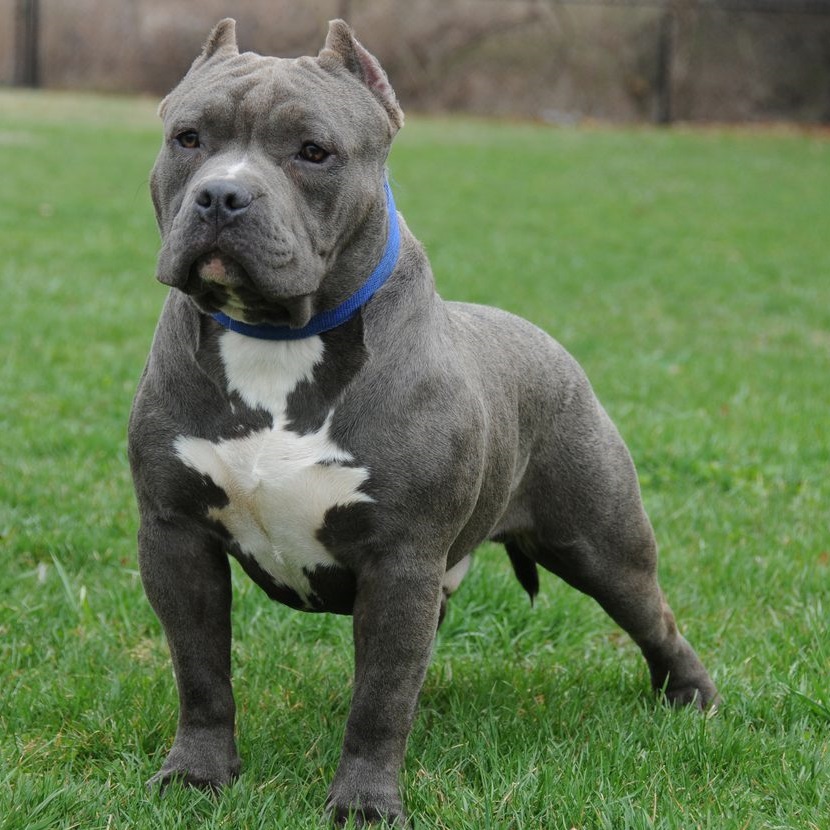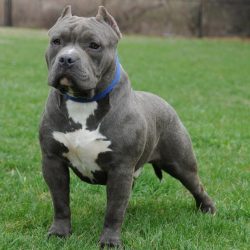 Blue Tri Bully
Blue Fawn Tri Bully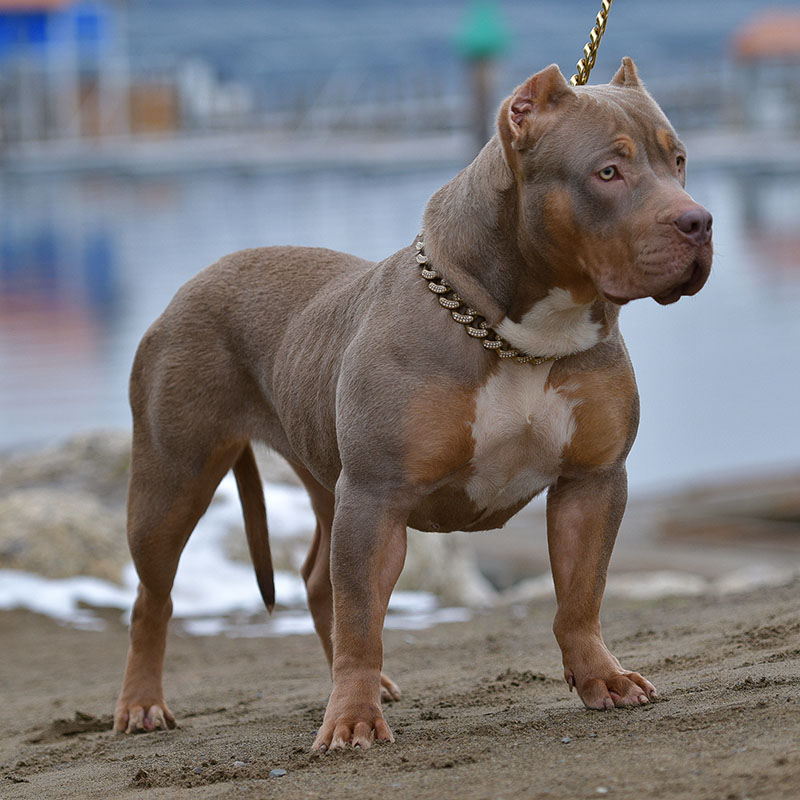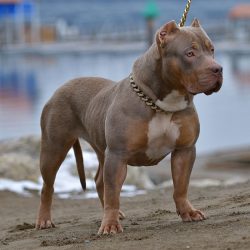 Fawn Tri Bully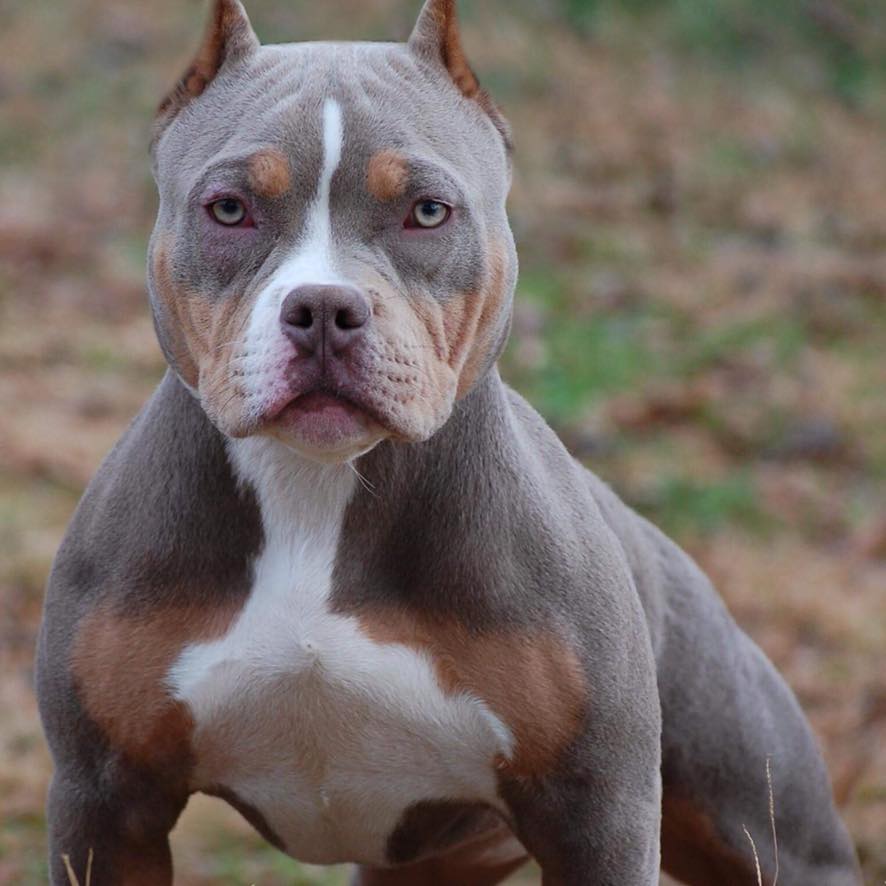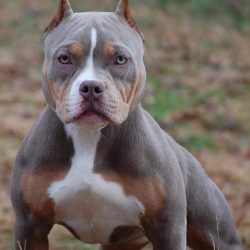 Lilac Tri Bully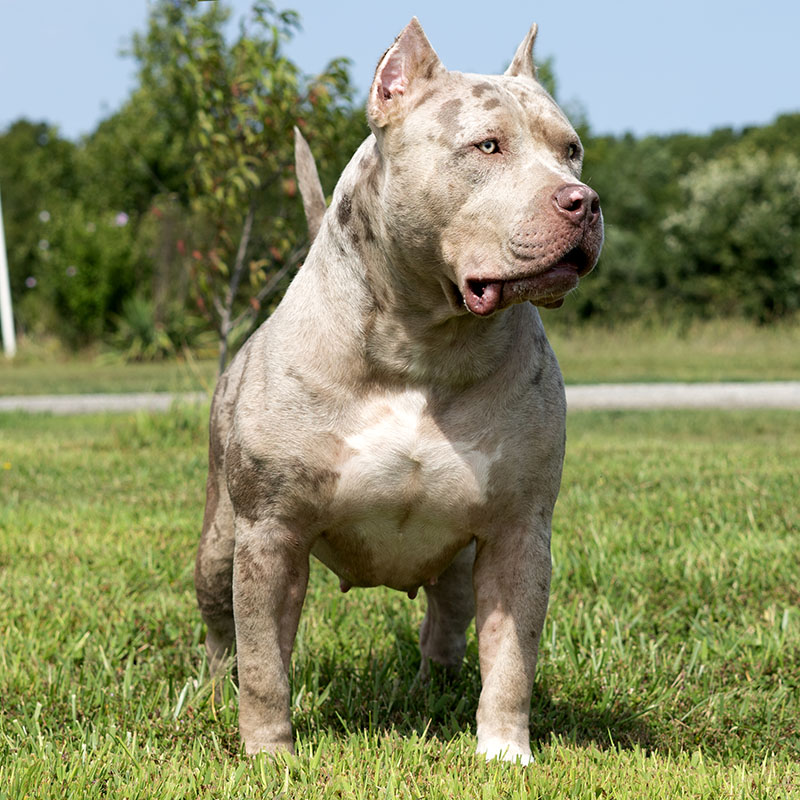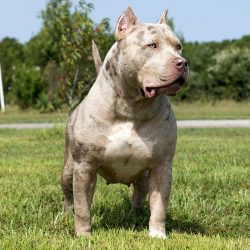 Lilac Tri Merle Bully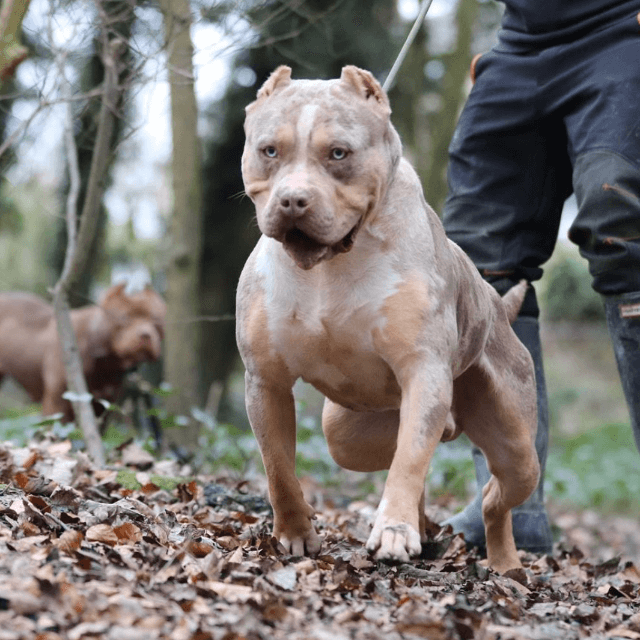 Ghost Lilac Tri Bully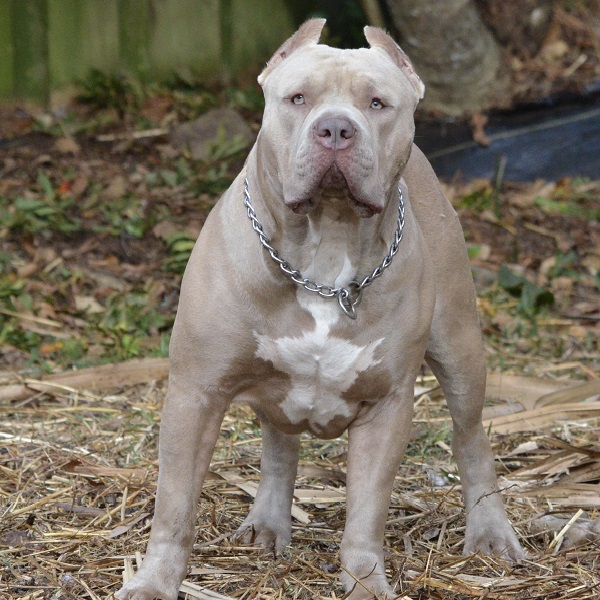 Ghost Tri Bully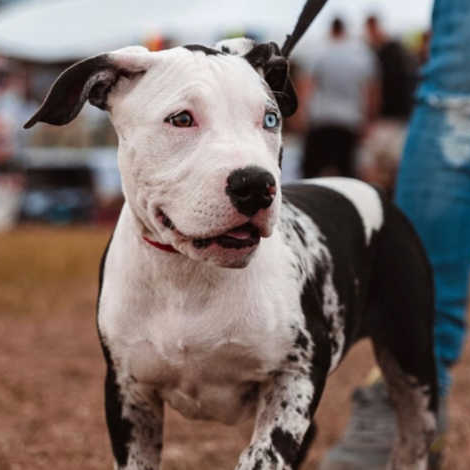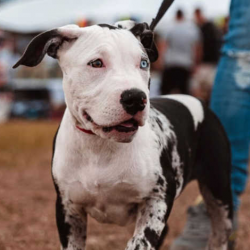 Black Ghost Tri Bully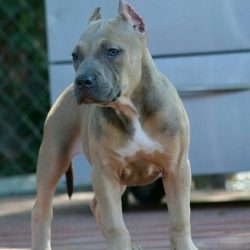 Blue Ghost Tri Bully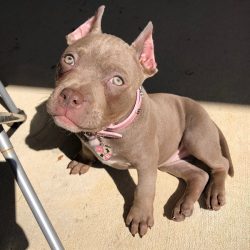 Champagne Ghost Tri Bully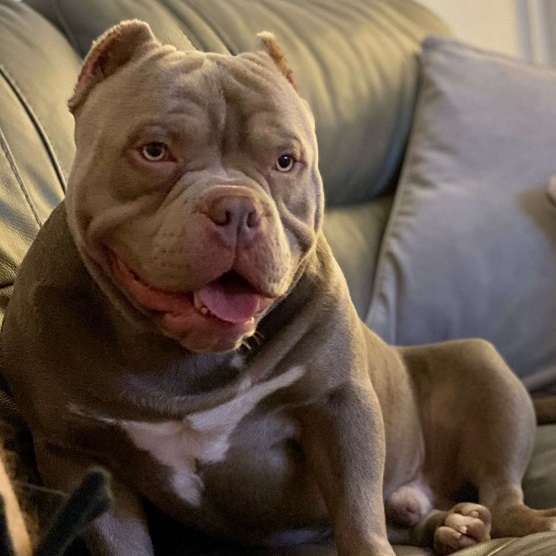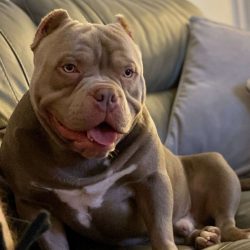 Ghost Lilac Tri Bully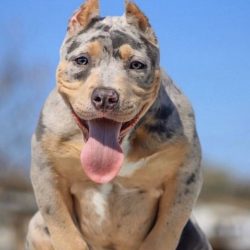 Tri Merle Bully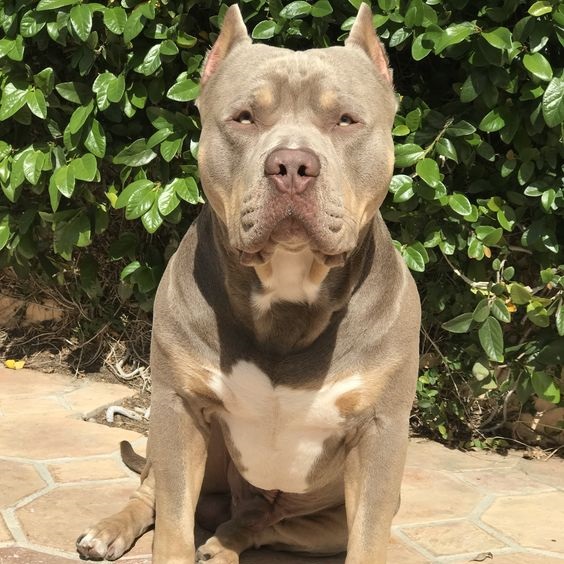 Purple Tri Bully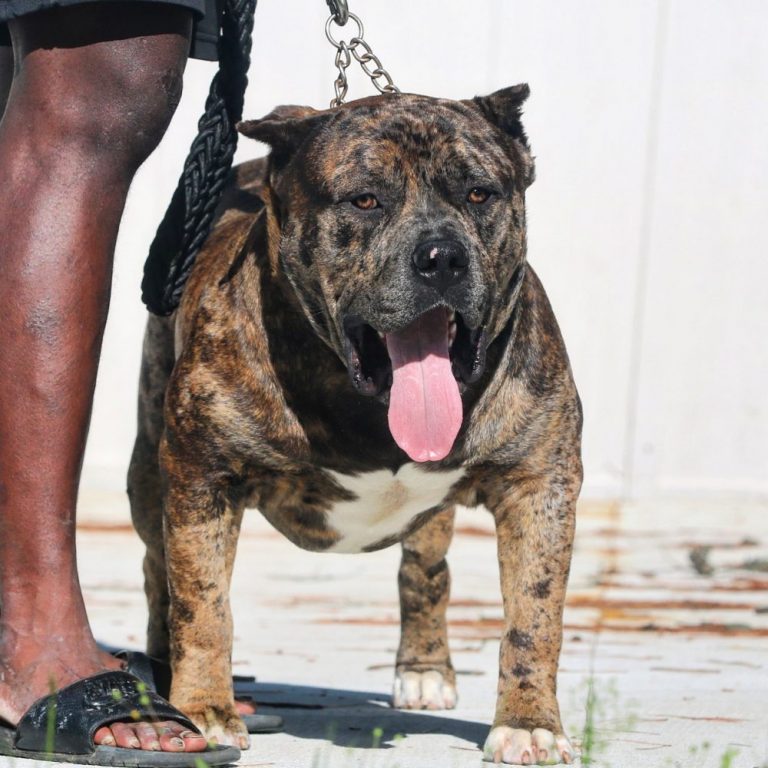 Tri Brindle Bully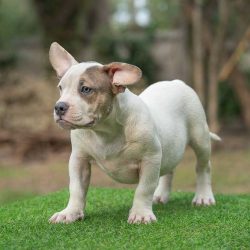 Piebald Tri Bully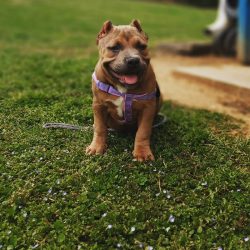 Reverse Tri Color Bully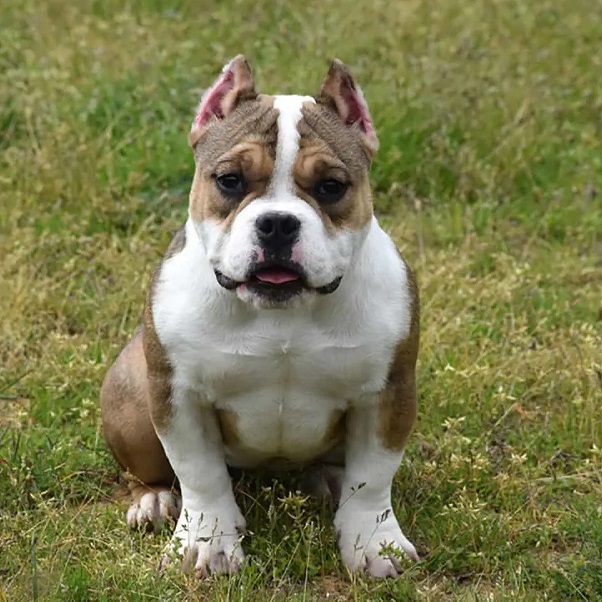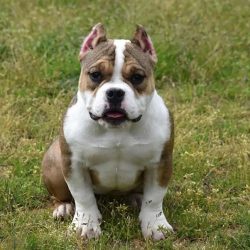 Sable Tri Bully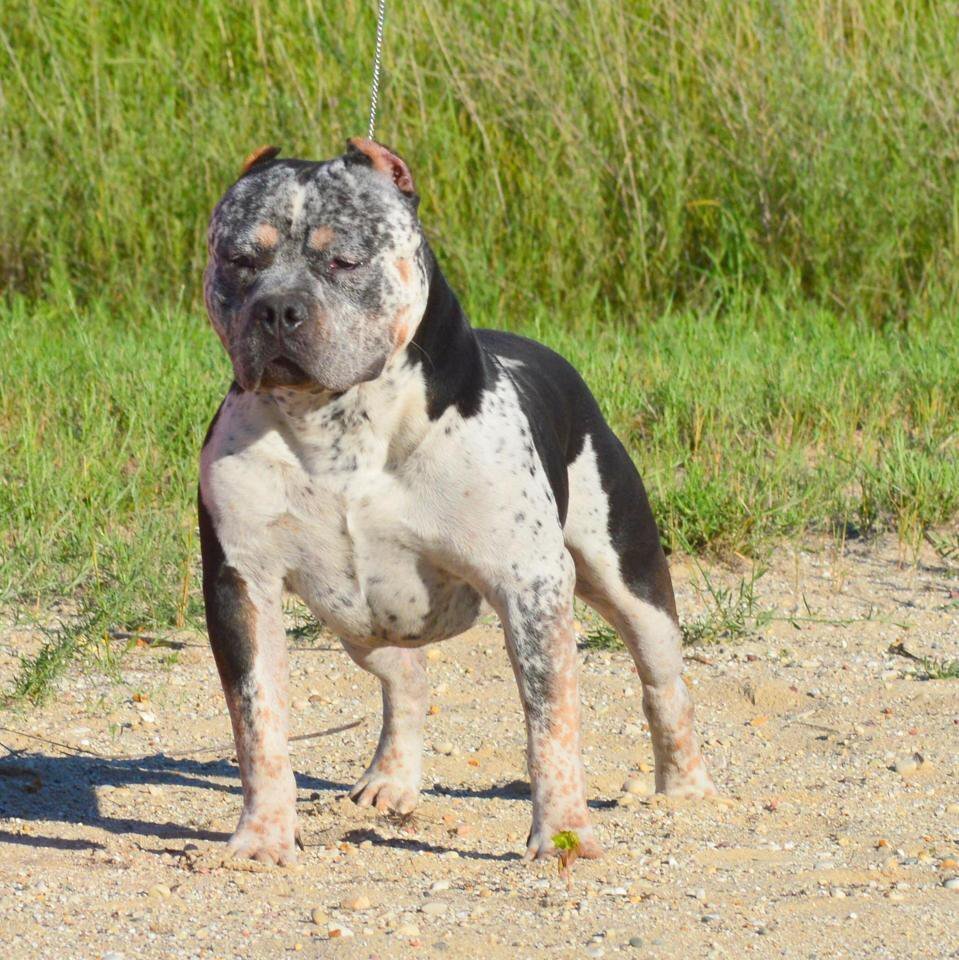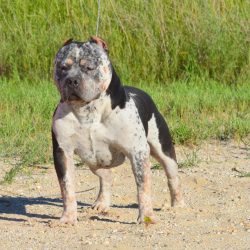 Ticked Tri Bully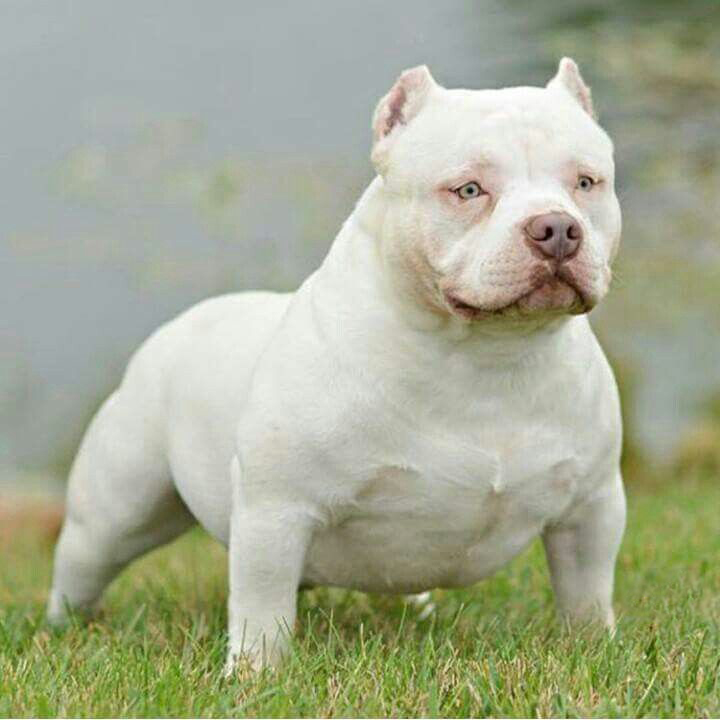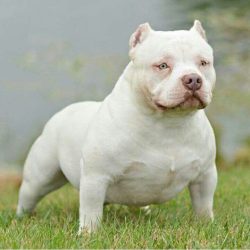 White Tri Bully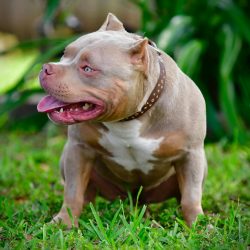 Tri Pocket Bully
Our website is all about Pitbull dogs. If you're a Pitbull lover and looking for more information about the different Pitbull colors and coat patterns, you're in the right place. Learn more about the Brown Pitbull, Black Pitbull, Tri-Color Pitbull, Merle Pitbull and many others. Please bookmark this site and check back frequently as we're frequently adding more!
Mandy has lived with pitbulls her whole life, and she has amassed a wealth of experience and knowledge about these magnificent animals. Having had the pleasure of owning and caring for numerous pitbulls over the years, she has come to understand their unique characteristics, behaviors, and needs. Read more