It's here! Our Pit Bull Awareness Month Virtual Silent Auction October 20th-25th!
YARD BAR HOWL-O-WEEN WITH LOVE-A-BULL  
We are teaming up with Yard Bar for our second annual Howl-o-ween on Saturday, Oct. 29! October is Pit Bull Awareness Month — AND Love-A-Bull is also celebrating its 14th anniversary as a non-profit!
Costume contests start at 2 p.m. Sign up via Eventbrite for a suggested donation of at least $10 to enter one of the following categories:
–Best Pittie Costume
–Best DIY Costume
–Best Group Costume (owner+dog, couple+dog, family+dogs, etc.)
–Best Owner/Handler Look Alike
Costume contests will take place on the Fat City patio and all ages are welcome! We'll have plenty of great prizes, including some great swag from Yard Bar and Picaboo!
We'll also have a booth set up with information about Love-A-Bull, regular merchandise for purchase (shirts, stickers, magnets), plus special Pit Bull Awareness Day stickers for purchase! RSVP for additional info and event updates!
Why support Love-A-Bull?! Because of our "Happy Tails" for dogs like Nubia!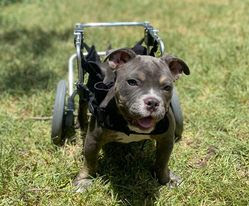 All funds raised for Love-A-Bull, a 100% volunteer-run, foster-based 501(c)3 nonprofit, go directly toward advocacy, education and rescue on behalf of pit bull-type dogs.
They go back to helping dogs like Nubia, pictured above, who came to our rescue in need of a second chance and a lot of help. With the help of funds donated by our wonderful supporters, we were able to pull Nubia into our Adopt-A-Bulls rescue program and get her the care (and WHEELS!) that she needed. She is now adopted and loving her new life! 
And even though Nubia has found his furever home, we are still desperately searching for more fosters and adopters! With the holidays approaching and people's travel schedules filling up, we expect a slowdown in adoptions — but the pleas for our help across rural communities in Texas never stop coming. These dogs need us. They need YOU.
Apply today to meet our availa-bull Adopt-A-Bulls.
Mandy has lived with pitbulls her whole life, and she has amassed a wealth of experience and knowledge about these magnificent animals. Having had the pleasure of owning and caring for numerous pitbulls over the years, she has come to understand their unique characteristics, behaviors, and needs. Read more